Taking the Plunge Into Fundraising
21 April 2023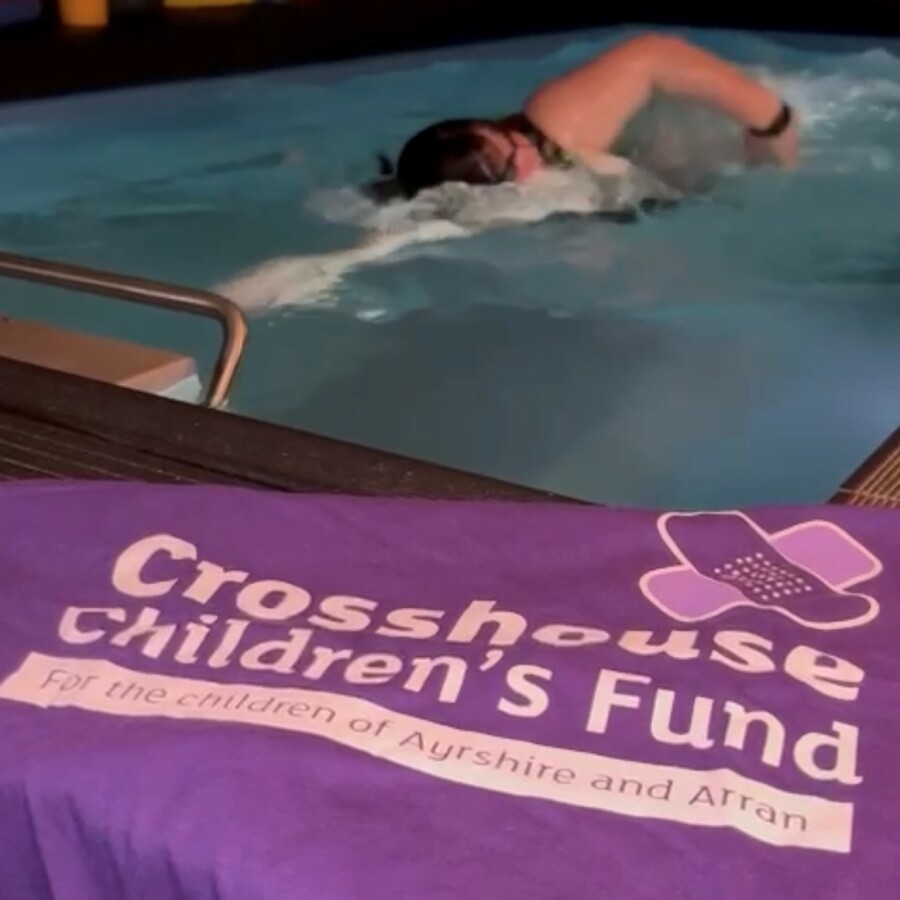 Fundraising for Crosshouse Children's Fund helped supporter Catriona rediscover her joy for swimming while giving back, after the care a boy close to her received in hospitals across the west of Scotland.
Three-year-old J, who has complex additional support needs, has been a patient at Crosshouse Hospital in Kilmarnock, Rainbow House in Irvine, and the Royal Hospital for Children in Glasgow for almost a year.
During his hospital journey, J has received plenty of help from charity-funded projects, from calming sensory equipment to the transformation of the various rooms in Rainbow House.
Catriona celebrated her 30th birthday this month, and when she decided to mark the occasion with a fundraiser, Crosshouse Children's Fund immediately came to mind.
She said: "J's journey with Crosshouse began in May 2022. Unfortunately, J had a potential seizure which resulted in a hospital trip and began his journey under his paediatrician at Rainbow House.
"His paediatrician and dietician decided that he needed a nasal gastric tube to help him get the right nutrients and fluid intake. This resulted in visits to Crosshouse and Rainbow House to get it re-passed as he mastered how to pull it out, while sickness also resulted in the tube coming out.
"He was then hospitalised in October 2022 to investigate the sickness. His first barium test (which checks for problems in the digestive tract) showed abnormalities which resulted in a second barium being carried out at the children's hospital in Glasgow.
"The results showed that J had kinks in his duodenum - the start of the small intestine - which resulted in his surgery taking place sooner than expected.
"It required open surgery, which made this a very daunting time - but the support from all the staff was just incredible.
"J was transferred to Crosshouse before returning home. He suffered from a viral infection in December 2022 and was admitted to Crosshouse as he needed some assistance with maintaining his oxygen.
"J continues to have regular appointments and input from a variety of professionals across Crosshouse, Rainbow House and the children's hospital in Glasgow."
Catriona completed her target of 10 miles in the water by her birthday. The challenge has reignited a passion for swimming she has had since childhood, while helping children like J in the facilities supported by Crosshouse Children's Fund across Ayrshire by raising more than £500.
Catriona added: "I have always loved swimming and believe it is such an important life skill to have. I completed my swimming lessons as a child, and then joined my local competitive swimming club, where I spent most of my time training before and after school and competing on the weekends. I then started working as a lifeguard and swimming teacher as well as volunteering as a coach.
"I hadn't been in a swimming pool for about seven years prior to starting my fundraising and had decided to set myself a challenge to help me get back into swimming while raising money for the charity.
"With the recent hospital stays I decided I would like to give back to Crosshouse Children's Fund and Glasgow Children's Hospital Charity.
"The support from the amazing staff and access to different resources made the stay feel as comfortable as possible. The Charity-funded sensory room and sensory toys, and input from the play assistants were particularly helpful in meeting J's sensory needs."