Melissa - Our Swimming Superstar
24 May 2022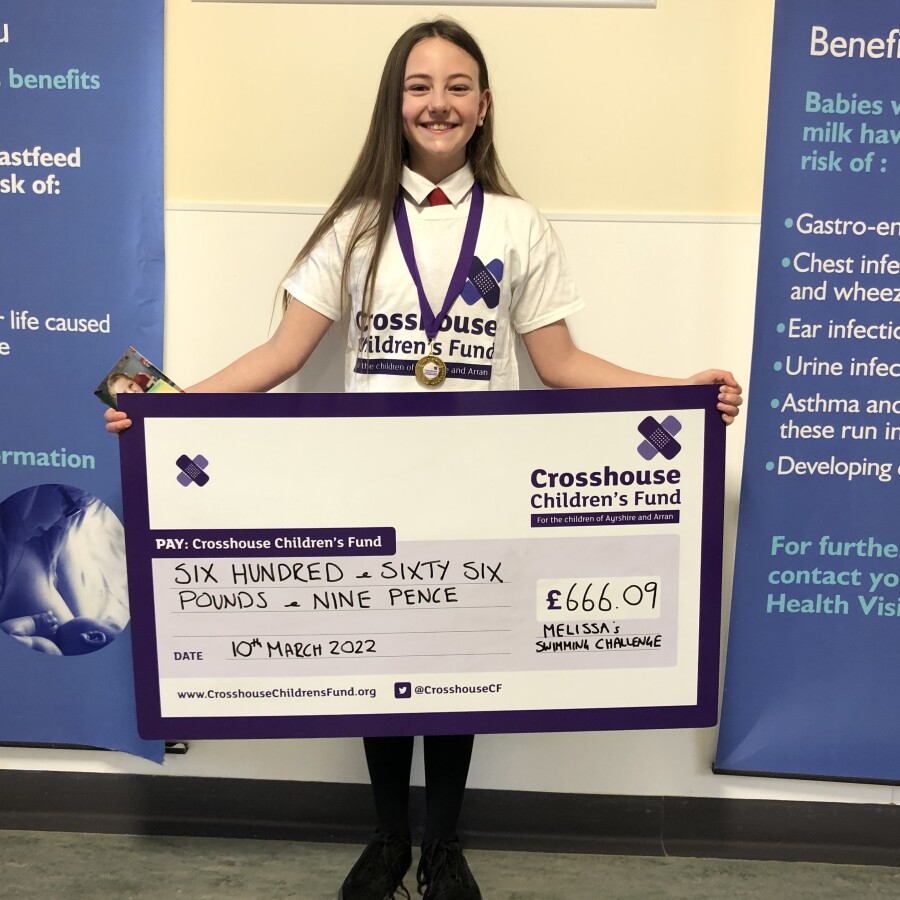 10-year-old swim superstar Melissa tackled the length of the English Channel in her local pool for Crosshouse Children's Fund.
"The reason I chose to support the bereavement service is because the people who have lost loved ones will always have a hole in their heart, hoping for that hole to be filled. Sometimes that might not be able to happen so I want to try my hardest to fill it for them."
Our brilliant young fundraiser raised £666 in donations to help the children, families and hospital staff of Ayrshire and Arran.
Smashing the 21.88-mile distance wasn't enough for Melissa – so she 'turned back' and more than doubled the distance for a whopping 45.5 miles in total.
It took just five weeks for Melissa, of the excellent South Ayrshire Swim Team, to tackle the initial distance. She would have finished the entire challenge in fewer than the 14 weeks it took, were it not for Covid and some other delays.
The money will go to the Ayrshire Maternity Unit Bereavement Team at Crosshouse and she is rightly proud of her accomplishment.
Melissa said:
"I really like fundraising because it does feel amazing knowing that you have helped people and families.
"I found the challenge quite hard – but that didn't stop me because it's one of the things I love to do, and my coaches encouraged me as well as my teammates."
We are so proud of you, Melissa! Your medal and certificate were hugely well deserved.